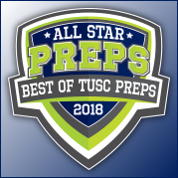 Web Page

All Star Preps: The Best of Tusc Preps 2018


Friday, June 15, 2018
at 6:00 P.M. The Times-Reporter Presents
The Best of Tusc Preps 2018
#BESTOFTUSC

Join The Times-Reporter as we celebrate and honor the accomplishments of the 2017-2018 All-Star high school student athletes at the second annual Best of Tusc Preps Awards. The Best of Tusc Preps awards banquet is the Times Reporters way of saying thank you to the thousands of outstanding high school athletes, coaches, and fans who allow us to share their stories, performances and passions. Sponsored by DoverPhila Credit Union and East Ohio Orthopaedics, the event honors the top performers in 21 sports. Awards will be presented to the Outstanding Player of the Year in each sport, as well as Male Athlete of the Year and Female Athlete of the Year. Best of Tusc Preps athletes are invited to attend for free and the event is open to family, friends and the general public.

We are proud to welcome Hall of Fame Quarterback, Jim Kelly, as our featured special guest. Kelly will be live in Canton for a question and answer session about lessons he's learned and memories he's made during his career.

Doors open at 6:00pm. Event starts at 6:30pm. General admission tickets may be purchased for $50. General admission ticket includes dinner, awards ceremony, and presentation by Jim Kelly. General admission seating is first come, first served in proximity to speaker. Tusc Preps athletes receive a invitation with instructions for claiming your free ticket.
Tickets: call 330-580-8514

Best of Tusc Preps is presented by The Times-Reporter in partnership with DoverPhila Credit Union and East Ohio Orthopaedics. Thank you sponsors for allowing us to bring this event to our community.