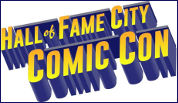 Web Page

Hall of Fame City Comic Con


Saturday, September 15, 2018
at 10:00 A.M. 10:00am - 6:00pm

MEET YOUR 2018 HOFCCC GUESTS!

Kevin Eastman - TEENAGE MUTANT NINJA TURTLES
Peter David - MARVEL, DC, NOVELS
Aaron Archer - HASBRO DESIGNER
James O'Barr - THE CROW

We are bringing some POWER to Canton on SEPT. 15TH...
TURTLE POWER!

Tickets are available online only at
www.hofcitycomiccon.com.
Tickets are NOT available at the Canton Civic Center Box Office.
Tickets are $10 for adults and $5 for children (ages 5-12). Children 4 and younger are free.