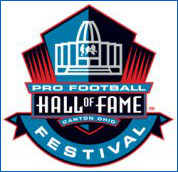 Web Page

Pro Football Hall of Fame Enshrinement Festival Fashion Show Luncheon


Friday, August 3, 2018
at 11:30 A.M. Guests will enjoy a delectable lunch, followed by a show featuring fashions from casual to dressy and everything in between. The seasonís hottest fashions will be provided by local and regional stores, and will showcase both male and female models.

Seating in various satellite rooms, all offering the same quality meals and amenities. After dinner, guests come into the main arena elevated perimeter seats to enjoy a great view of all the festivities.