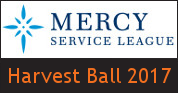 Web Page

Mercy Service League's Harvest Ball


Saturday, October 21, 2017
at 6:00 P.M. Feast & Fantasy 2017

Join Us for Feast & Fantasy Harvest Ball

Mercy Service League will hold its signature fundraising event, the Harvest Ball, on Saturday, October 21, 2017, at the Canton Memorial Civic Center. As always, this will be an evening of excitement, elegance and music—the area's only gala featuring no auction, no wallet, and no program.

As a supporter, you and your guests will be treated to an elaborate five-course gourmet dining experience, complimentary cocktails, full-service bar, and delicious dessert confections. As you dance the night away to the music of The Orchestra, your experience will be an unforgettable highlight of the social season.

All proceeds from this year's event will benefit the Mercy Safe Caring Initiative – Avasure Telesitter.

Become a Harvest Ball Sponsor

The success of the Harvest Ball would not be possible without the generous support of our sponsors, underwriters, donors and friends that join us in partnership each year. To learn more about available sponsorship opportunities, call the Mercy Development Foundation at 330-430-2750.

$10,000 Cash Raffle

ONLY 250 tickets (at $250.00 each) will be sold for a 1-250 chance to win! The drawing will be held at the 2017 Harvest Ball, and the winner need not be present.

Tickets are also available at the Mercy Gift Shop during operating hours. Raffle tickets purchased in the Gift Shop ONLY are elligable for employee payroll deduction.