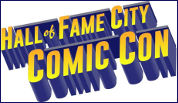 Web Page

Hall of Fame City Comic Con


Saturday, September 30, 2017
at 10:00 A.M. 10:00am - 6:00pm

Tickets are $8.00 for Adults and $4.00 for Children. Tickets prices will increase at the door. Tickets are only available on line at www.hofcitycomiccon.com. Tickets are NOT available at the Canton Civic Center Box Office.